Welcome to the soft-launch of our new product: Helpful Kids Motivational Cards! In the next two weeks this unique kit will be offered at a unique discount of 40% which is offered to our close circle of Followers and friends. The sale goes live on May 12th and in the meanwhile please register your interest here:
https://www.facebook.com/events/2243542295738377/

So what's in our kits?

Each pack includes:
7 Motivation Cards. Each card covers a particular housework area, and includes 6 mini-activities. In total, there are 42 mini-activities in the pack. The areas covered are: laundry, preparing meals, cleaning the kitchen, tidying the bedroom, cleaning the bathroom, tidying the lounge and hall, and garden, pets and general.
For each mini-activity, our cards provide four positive teaching resources. What these resources aim to do is to get your children MOTIVATED to help. Motivation is better than obedience or even cooperation. We want your children to enjoy the various tasks around the home and understand why they are necessary. We want your family to have a good laugh and to enjoy quality time together.
For each mini-activity an Inspiration Card provides:

Joke - start learning with a giggle. A joke puts parents and their children in a positive mood and reminds us that learning a new skill is a privilege and can be fun. Tell the joke to your child and let us know if they laughed or if you (or they!) have a better one.
"Feel-good" aspects (rainbow icon) - to encourage self-motivation we want to show our children that housework and chores needn't be boring and that there are positive elements to everything we do at home. For example, some people find folding laundry to be relaxing. You could introduce this idea by sharing your own thoughts, such as, "What I love about (activity X) is that it can be (feel good aspect)" or "Some people say that (activity Y) is (feel good aspect)".
Teaching tips - these give parents some hints about how to teach these activities and also include safety issues and suggested aids (these can usually be found on our Facebook shop). We'd love you to add your own ideas to our Facebook group!
Reasons we do the task - children often respond better if they understand the reason for something; they are less likely to cooperate if they think we are just bossing them around! Explaining why we do certain tasks also helps their development and encourages self-motivation. With time, they should begin to do these tasks by themselves and unprompted.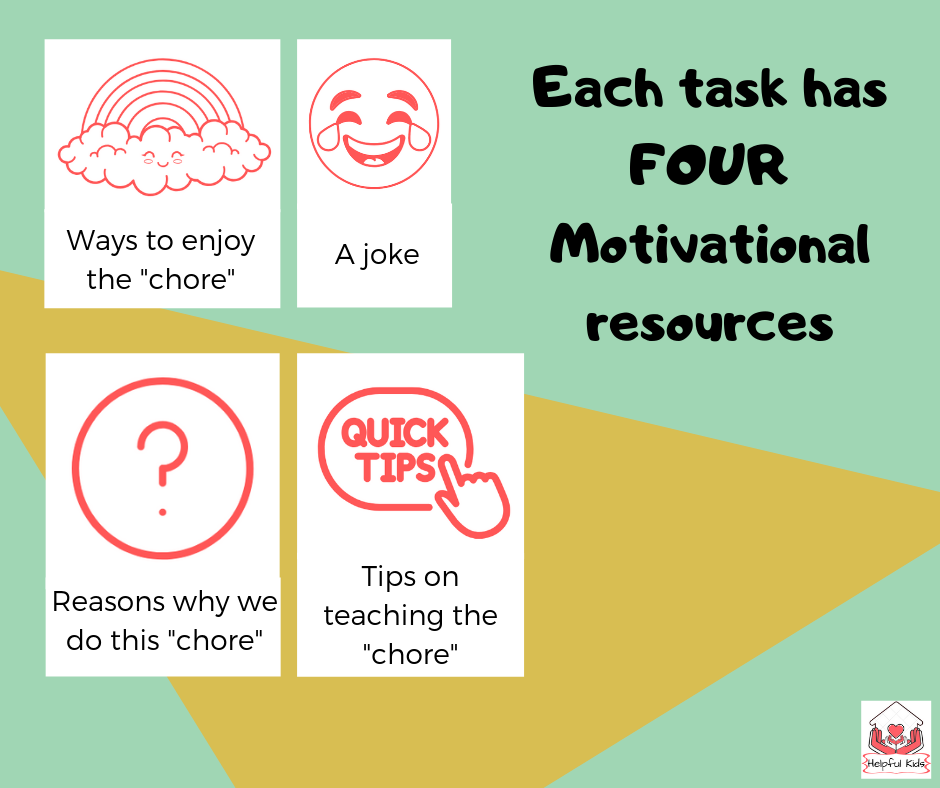 To see a video about the kits please click here:
https://www.facebook.com/HelpfulKidz/videos/602517470261050/?modal=admin_todo_tour

Here are the prices of the packs for your reference:
Printed and shipped to you:
7 cards Complete pack: 16.2£ (40% off, will retail for 27£): includes 7 Motivational Cards + free delivery in the UK, free pouch, free motivation guide, free kindness sheet. Click here
We're looking forward to the launch which will take place between May 12th and 27th!